Collection: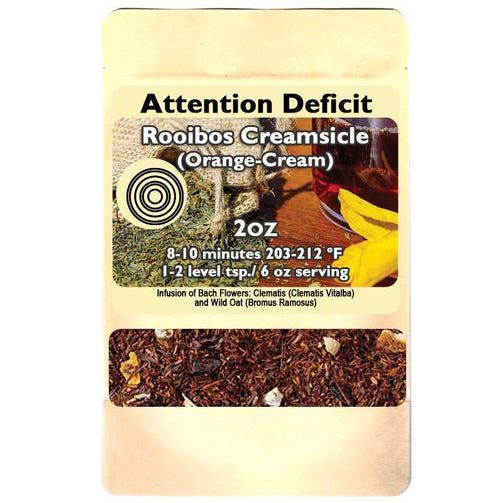 Collection:
Attention Deficit Tea
Attention Deficit Tea
Regular price

$9.90

Sale price

$9.90
It's hard to accomplish anything when your mind behaves like a butterfly, flitting from one thought and one project to another. The Attention Deficit blend will help if you've actually been diagnosed with ADD/ADHD - or if you are in a temporary state of confusion - unable to settle down and focus.
---
2OZ Tea Leaf Blend Rooibos, Creamsicle (Orange-Cream)
The name of this tea describes the intense taste which really hits your senses. A strong, sun ripened orange combined with mild yoghurt will make you taste the sun on your tongue. The taste is similar to a hard candy which owns fine, sweet lemony fruit notes. Thanks to the shiny orange peel and bright yoghurt pieces, this tea presents a visual sensation which unites fruit and freshness. A fresh and aromatic composition which makes you long for summer to come. Ingredients: Rooibos tea, orange peel, flavoring, freeze-dried yoghurt granules (skimmed milk yogurt (lactose), sugar, malt dextrin, modified starch: di-carbophosphate, acidifying agent: citric acid).
How to make: 8-10 minutes 203-212 °F 1-2 level tsp./ 6 oz serving
Infusion of Bach Flowers: Clematis (Clematis Vitalba) and Wild Oat (Bromus Ramosus)