Collection: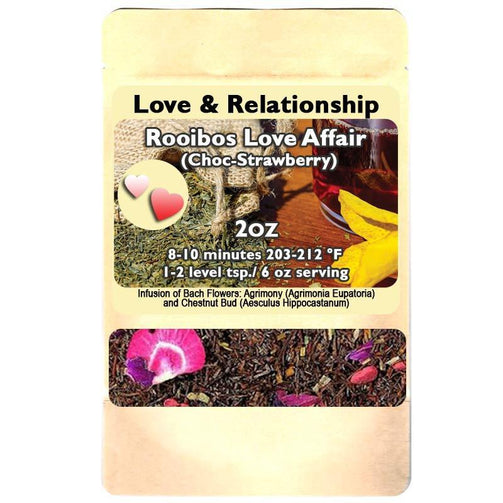 Collection:
Love & Relationship Tea
Love & Relationship Tea
Regular price

$9.90

Sale price

$9.90
Are you critical of others - so you unconsciously push them away? Are you unsure of yourself - so your insecurities prevent you from reaching out to others? The Love & Relationship blend will let you recognize your own worth and relate to others in a loving and accepting manner.
---
2OZ Tea Leaf Blend Rooibos, Love Affair (Choc-Strawberry)
In flush of the feelings... our tempting tea creation with red sugar hearts and scented rose blossoms lets each tea drinker's heart beat faster, not only on Valentines Day or in other matters of love! This creamy, sweet composition combines heavenly chocolate, a dash of yummy strawberry tart and is refined by a light dash of the irresistible rhubarb taste! Ingredients: Rooibos tea, sugar sprinkles red hearts (sugar, rice flour, hard peanut oil, thickening agent: traganth, coloring allura red AC, flavoring), flavoring, rose blossoms, freeze-dried strawberry peels and rhubarb pieces.
How to make: 8-10 minutes 203-212 °F 1-2 level tsp./ 6 oz serving
Infusion of Bach Flowers: Agrimony (Agrimonia Eupatoria) and Chestnut Bud (Aesculus Hippocastanum)